Wave Hello to next summer's VBS
The secret is out! Lifeway's VBS for the summer of 2024 is …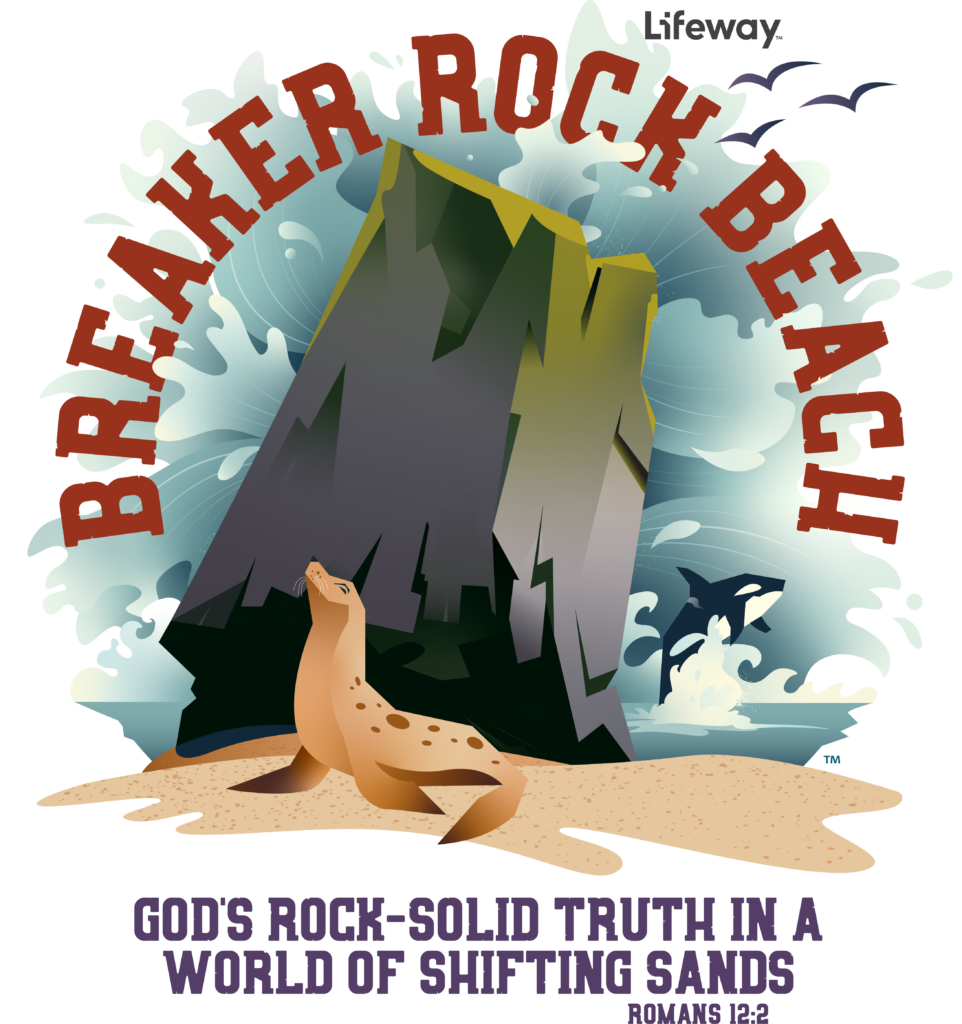 Every day is an adventure at Breaker Rock Beach—from the morning waves crashing against the shore to evenings filled with bonfires and s'mores! Catch a glimpse of an orca leaping through the surf or watch happy sea lions playing among the rocks beneath magnificent pines. Race along the sand with your brightly colored kite, join friends to make the most amazing sandcastle, or gaze in wonder at the mysteries found in a glimmering tide pool. As the crowds come and go and the tides ebb and flow, Breaker Rock rises majestically from the ocean like a tower standing strong against the crashing waves. 
At Breaker Rock Beach, kids will learn to recognize the difference between what people may say is true and what God says is true. They'll discover that, unlike the shifting sands of culture, God's truth never changes! It stands strong like a towering rock—a beacon calling us to hold tight to it so we aren't tossed about by every new crashing wave. At VBS, kids will learn that God does not want them to be conformed to this age, but to be transformed by the renewing of their minds so that they can discern what is the good, pleasing, and perfect will of God (Romans 12:2). 
Bible content
DAY 1: TRUTH COMES FROM GOD
Some People Say: Truth can be different for different people.
God Says: Truth comes from Me.
Bible Story: Satan Tricked Adam & Eve (Genesis 2–3)
Today's Point: Truth comes from God.
DAY 2: GOD'S PLAN IS BEST
Some People Say: Do what makes you happy.
God Says: My plan for you is even better.
Bible Story: Daniel Chose God's Way (Daniel 1)
Today's Point: God's plan is best.
DAY 3: EVERYONE NEEDS JESUS
Some People Say: Being a good person gets you into heaven.
God Says: Everyone sins and needs a Savior.
Bible Story: The Rich Young Ruler (Mark 10:17-27)
Today's Point: Everyone needs Jesus.
DAY 4: JESUS IS THE ONLY WAY
Some People Say: There are many ways to get to heaven.
God Says: Jesus is the only way to get to heaven.
Bible Story: John Wrote about Jesus (John 14:1-6; 18-20; Acts 1:9-12)
Today's Point: Jesus is the only way.
DAY 5: SPEAK THE TRUTH IN LOVE
Some People Say: If you don't agree with me, you don't love me.
God Says: Speak the truth in love.
Bible Story: Paul Encouraged the Ephesians (Acts 9:1-6; 19:1-10,21-31; 20:1; Ephesians 3:14–4:16)
Today's Point: Speak the truth in love.
Rotation Sites
Worship Rally at Breaker Rock Beach
Bible Study at Sandcastle Cove
Sea Lion Snacks 
Ship Rec 
Tide Pool Crafts 
Bonfire Missions
Orca Music 
To learn more about Breaker Rock Beach, download the theme reveal video, and preview the theme song, visit our website.