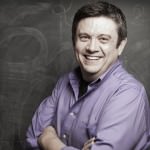 Back in 2006 I was given the honor of joining the team at LifeWay Christian Resources as the Vacation Bible School Ministry Specialist. The position has included responsibility for national training events such as Preview, working with the publishing team to develop themes and resources for 11 seasons, and traveling the U.S. equipping state and associational leaders who, in turn, equipped church leaders.
As much as I have enjoyed these responsibilities, the best part of the job has been the relationships with so many of you. While many of us have only met through phone and e-mail conversations, I count partnering with you in the transformational ministry of VBS as one of my greatest blessings and treasures.
As you may have noticed by the sentimental tone of my writing in recent weeks, I'm in the midst of transitioning away from LifeWay and back to my roots in local church ministry. Thank you for allowing me to partner with you for the past 11 seasons of VBS. Serving you as LifeWay's VBS Ministry Specialist has truly been a privilege and honor.
As I recently wrote, VBS must be continually evolving—and so it is also true with the VBS Specialist position.
Beginning tomorrow Melita Thomas will be taking over the responsibilities for this blog as well as the face of LifeWay VBS. While she is new to the position, she is not new to LifeWay's VBS or to you. In fact, we both started working on VBS the same year with Game Day Central. Melita, one of the most creative people I know, has appeared for years on our set and decoration videos—teaching us all how to use foam and a hot knife to create fantastic sets and backdrops.
In addition to using her creative skills to construct over-the-top sets, Melita has served as editor of preschool resources, Worship Rally materials, Decorating Made Easy, Zip for Kids, and led in the development of KidEvent Pro.
Melita is a member of Nashville First Baptist Church where she teaches preschoolers and preteens and sings in the choir.
I hope you will join me in both welcoming Melita to this new role and praying for her as she begins this new chapter in the transforming ministry of Vacation Bible School.
Thanks for the memories.
the vbsguy
Save