IS VBS WORTH IT?
It's no secret that Vacation Bible School takes a lot of hard work. There are schedules to plan, crafts to make, volunteers to recruit—you know the drill. And when the big week comes to a close, you may collapse in a VBS-induced coma. It's easy to raise the question, "Is VBS worth it?" To that we say, "Yes!" and here are a few reasons why:
2.5 million people attended VBS.
Over 155,000 unchurched families connected with the body of Christ.
Over 70,000 people made professions of faith.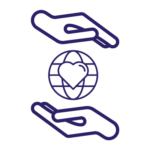 Over 1,300 kids responded to God's call into ministry or missions.
In a single week, kids received 15 hours of intense discipleship. That's equivalent to 7 months of ministry!
$6.5M given to mission causes through VBS offerings.
VBS brings energy to your church in a way nothing else can. It's fun for kids, and it's great for families. You'll see conversations about Jesus begin to happen in a natural setting and hearts may be changed for an eternity.
It doesn't matter how large or how small your church is—whether you have five, fifty, or five hundred kids—
You can do VBS and it's always worth it!
*Statistics based on church reporting
VBS the Poster
Save
Save
Save