VBS Previews Are Going Digital!
Lifeway VBS Previews are a time for VBS leaders from all across the country to get a first look at the upcoming VBS, train their teams, and to be encouraged and inspired to make next summer their best VBS ever. The VBS 2021 Previews are going to be completely digital experiences. Without the cost of travel and hotels, and the cheaper individual ticket price, it's more affordable than ever to bring your whole team to get pumped up and excited about VBS 2021.
VBS 2021 Digital Previews feature:
Multiple attendance dates and times
Over 20 breakout sessions
Giveaways during the live event
And more!
Price: $49
VBS Previews 2021 Dates
(9:00 a.m.—12:30 p.m. CST)
(12:00 p.m.—3:30 p.m. CST)
(9:00 a.m.—12:30 p.m. CST)
(12:00 p.m.—3:30 p.m. CST)
VBS Preview Content
Base Conferences (1 hour each)
Babies–2s Overview
Preschool Overview
Grades 1-4 Overview
VBX Overview
Music Rotation
Missions Rotation
Backyard Kids Club
Student VBS
Adult VBS
VBS Directors Overview
Decorating Made Easy Overview
Breakouts (30 mins each)
Preschool VBS Rotations Overview
Snack Rotation Overview
Recreation Rotation Overview
Crafts Rotation Overview
Sharing the Gospel with Kids
VBS Follow Up
Multi-Age Overview
Volunteer Appreciation
Including Children with Special Needs in VBS
Increase the Reach of Your VBS
Bible Content Review
Classroom Management
4 Strategies for VBS This Summer
How to Involve Your Whole Church in VBS
Enlisting & Recruiting Great Workers for VBS
Involving the Whole Family in VBS
Safety and Security in VBS
The Role of the Pastor in VBS
Discount Decorating
Spanish EBV Breakouts

Conferencia para líderes de EBV Preescolares
Conferencia para líderes de EBV Escolares
Conferencia para líderes de EBV Adultos y Jóvenes
Conferencia para Pastores y Directores de EBV
Conferencia: Manualidades para la EBV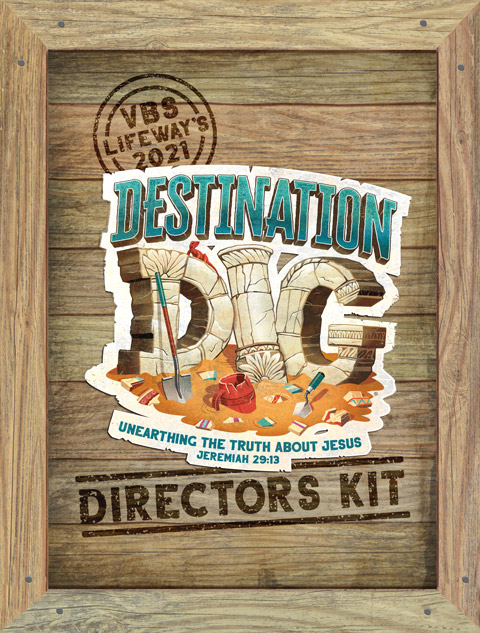 THE 2021 DIRECTORS KIT
IT'S PACKED WITH ALL THE ITEMS YOU NEED TO BEGIN PLANNING YOUR DESTINATION DIG VBS! VBS 2021 DIRECTORS CLUB
Are you a VBS Director? If so, you need to get in on the fun and join Lifeway's VBS Directors Club.
Gain access to exclusive Destination Dig content and more to help you plan your best VBS ever!